Hydrangea Garden
Here is a view of my new Hydrangea garden. It's not all that impressive at this point, but next year it should be worth blogging about.
I was so cruel to create a Hydrangea garden in this location, because it gets nice cool shade until about 1pm when it is hammered with the hot afternoon sun for the rest of the day. How rude of me! I'm probably suffering more than the plants do though, since I am the one lugging water to them every day! Ideally, Hydrangeas prefer early morning sun followed by mid-afternoon shade. I really can't think of a location around my house that offers those conditions though.
I planted three Hydrangeas and underplanted them with Gooseneck Loosestrife and pink daylilies. From left to right the Hydrangeas are; Penny Mac, Woodlander and Nikko Blue. I also bought some lovely pink tulips from Jesse Israel that I have yet to plant, but I hope to get them in the ground this weekend. (I always say I'm not going to buy more bulbs, but I end up giving in when I see all the exciting colors and varieties!)
I planted three of these pink Double Classic daylilies in the middle of the bed. These plants are shorter than most daylilies at only 16" tall, so they should be more tidy and compact than other varieties I have seen. I don't particularly like the foliage or habit of daylilies in general, but I am giving this cultivar a chance to redeem all daylilies! I ordered these when they were on sale at
Bluestone Perennials
, and they arrived in perfect condition. I like to keep an eye on their weekly sale items, because they always have a nice selection.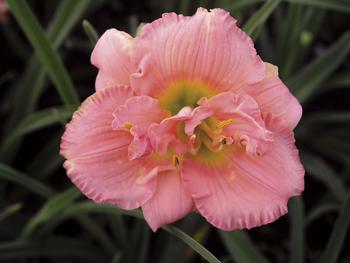 I filled in the rest of the bed with Gooseneck Loosestrife from my mother-in-law's garden. Gooseneck Loosestrife is a quick spreader, so if you plant it and want to keep it contained, be sure to plunge some sort of plastic or metal barrier at least 6" deep around the plants. Since I want a thick underplanting of Gooseneck Loosestrife, I did not install a barrier around the plants. I want it to spread and fill in that flowerbed until it is overflowing with little white goose necks.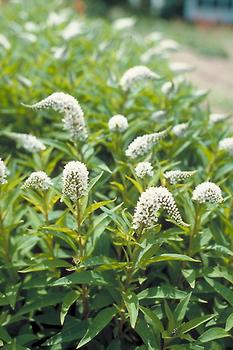 The Hydrangeas will bloom in spring and early summer. The daylilies should bloom in the middle of summer, then the Gooseneck Loosestrife will take over blooming at the end of summer. I hope to keep constant color blooming in this little area. We also plan to replace that hideous skirting soon!
Labels: asheville, daylilies, gardening, hydrangeas, loosestrife